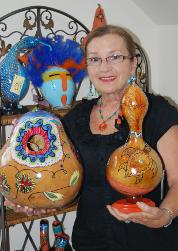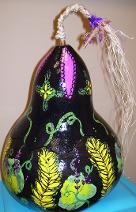 Artist Statement: This is a private collection, the art is one of a kind. I do not mass produce, but will do commissioned art pieces similar to work previously done. These photo's represent some of the art I have completed over the last eleven years. Many of the pieces have been sold and many were given as presents. If you are interested in any design, please contact me. Custom orders are accepted. The price range is $35.00-$200.00 depending on the size of the gourd and the details involved. The art work takes two or three days to complete (providing I have the time). The bird houses are waterproof, but need to be kept in a shaded area. Each piece has its own unique name and is signed and dated.
In June 2010, I moved back home to Pembroke, NC after living in northern Virginia for 46 years. Last fall, I taught gourd art classes for the Lumbee Tribe at their boys and girls clubs; I gave a presentation at UNCP featuring my art, was interviewed twice by our local newspapers and featured on TV channel 15. It is an exciting time for me as I never realized a hobby would eventually lead to so many rewarding experiences.
My hobbies include: Growing flowers, helping the elderly, teaching art classes, fishing, volunteer work and walking my dog. Now that I am retired, I spend a lot of time teaching children/elders how to grow, clean and make ugly grounds into beautiful works of art.
Update: January 2012, currently full time art education major at University of North Carolina in Pembroke, NC (UNCP).
Thank you for viewing my website. Please call or write me if you have any questions.
Joan C. Blackwell
Gourd Artist, Proud Army Mom and Lumbee
blackjo1234@aol.com (click to email me). 910-416-1379.
To order through Paypal call or email, so I may tell you the price of the art. You'll need to tell me the page it is located on and a give a description. I will confirm the art is available through email with a picture to make sure I am sending the correct art. You will be charged for postage. If it is sold, I'll make another one for you that will be very similar in design.
Memberships: North Carolina Gourd Society
Handmade in American
NC Gourd Reserve
River Roots Art Guild